Ad Tag Previews
SSL Compatibility
GDPR Compliancy
Ad Server Vendors
Internal Audits
Ad Validation Scanner
VAST Tag Validator
Creative 20+ QA Checklist for Ad Ops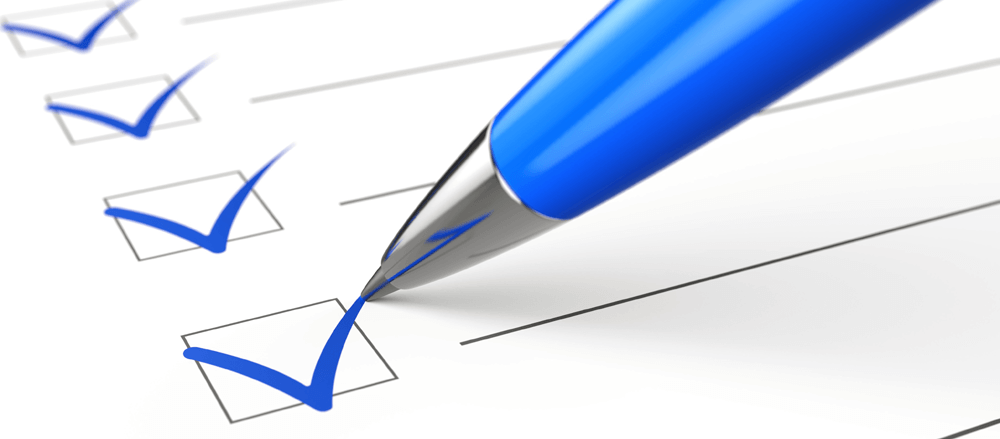 Here's a great tool for Ad Ops and publishers: a creative quality assurance checklist containing more than 29 tests.
Nr.
Test Name
How to check?
#1
Total Load Size
In Chrome, press CTRL + SHIFT + J, then click the Network tab. In the status bar at the bottom, check the total amount of bytes loaded.
#2
Network Requests
In Chrome, press CTRL + SHIFT + J, then click the Network tab. Load the ad and count how many HTTP requests are made.
#3
CPU Usage
In Chrome, press CTRL + SHIFT + J, then click the Performance tab. Press the record button and load the ad. Check how much CPU time is spend on rendering, scripting, painting, etc.
#4
Load Speed
In Chrome, press CTRL + SHIFT + J, then click the Network tab. In the status bar at the bottom, check the DOMContentLoaded event.
#5
Ad Dimensions
Load the ad on a test page, then right-click on it and select Inspect. Chrome automatically shows the width and height of the container. Does it match your expectations?
#6
Has Animation
Load the ad tag on a test page, and visually check if the creative has contains moving elements.
#7
RAM Usage
In Chrome, press CTRL + SHIFT + J, then click the Memory tab. Check the amount of MBs used to load the ad. Aim for no more than 5MB of RAM usage.
#8
SSL-Compatibility
In Chrome, press CTRL + SHIFT + J, then click the Console tab. Load the ad tag on an SSL test page. Do you see any mixed-content issues logged in the console?
#9
Iframe Count
In Chrome, press CTRL + SHIFT + J, then click the Elements tab. Go through each container and look for iframes.
#10
Cookies Dropped
In Chrome, press CTRL + SHIFT + J, then click the Application tab and go to Storage

arrow_forward

Cookies. Load the ad tag on a test page. If cookies are dropped, ask your advertiser for cookie-free tags. In 2022, 3P cookies will likely be gone.
#11
Plays Video
Check if the ad plays videos. In Chrome, press CTRL + SHIFT + J, then click the Network tab and filter for Media. Check if any video files are loaded (mp4, webm).
#12
JavaScript Errors
In Chrome, press CTRL + SHIFT + J, then click the Console tab. Load the ad tag on a test page. Do you see any errors logged in the console?
#13
Console Warnings
In Chrome, press CTRL + SHIFT + J, then click the Console tab. Load the ad tag on a test page. Do you see any warnings logged in the console?
#14
Mobile Friendly
In Chrome, press CTRL + SHIFT + J, then click the Device icon at the left (next to Elements). Is the ad responsive?
#15
Visual Artifacts
Load the ad on a test page, right-click and choose Inspect. Check if the size of the container element equals the expected dimensions.
#16
Creative Rendered
Check if the ad tag actually returns an ad. Load the ad tag on a test page, or use this ad validation scanner.
#17
Blocked by AdBlock
Enable your ad blocker and run the tag on a test page. Alternatively, use this ad validation scanner to automatically detect if an ad tag will be blocked by most ad blockers.
#18
Document.write() Test
In Chrome, press CTRL + SHIFT + J, then click the Console tab. Do you see any warnings indicating the use of synchronous requests?
#19
Creative Border
Load the ad tag on a test page, and visually check if the creative has a high-contrast border.
#20
3PAS Vendor
Manually review the code to see if you recognize code snippets that are known to be used by a certain 3P vendor.
#21
3P Domain Screening
In Chrome, press CTRL + SHIFT + J, then click the Network tab. Check if all of the 3P and 4P domains are on your white-list.
#22
Missing Assets
In Chrome, press CTRL + SHIFT + J, then click the Network tab. Check if any of the requests have a 404 status code.
#23
Dialogs & Modals
Run the ad on a test page, and check if any modals or pop-ups show up.
#24
Pixel Count
In Chrome, press CTRL + SHIFT + J, then click the Network tab. Load the ad and count how many HTTP requests are made that are less than 1KB in size.
#25
Local Storage
In Chrome, press CTRL + SHIFT + J, then click the Application tab and go to Storage

arrow_forward

Local Storage. Load the ad tag on a test page. If Local Storage items are set, you may want to be sure they don't contain unique identifiers (GDPR/CCPA).
#26
Click Tracking Macro
Manually verify if the click macro has been added to the ad tag. The ad tag usually has a placeholder where the macro should be added.
#27
Landing Page URL
Click on the ad to see if it redirects to a landing page. Make sure the landing page corresponds with the ad.
#28
Landing Page Redirects
In Chrome, press CTRL + SHIFT + J, then click the Network tab. Load the ad, then click the Clear icon at the left. Check the box 'Preserve log'. Click on the ad, and check how many redirects are made to get through the final landing page.
#29
Landing Page Target
Click on the ad. Does it open a new tab, or does it load in the current tab?
Test missing?
This list has been created with care. If a test is missing, please drop us a note. It will be added to this page within 24 hours. Promised!
How to perform all QA checks at once?
If you don't have time to go through each of these checks manually, you can use this ad validation scanner. You just enter the ad tag and you'll receive a QA report within seconds. A great time-saver for ad ops: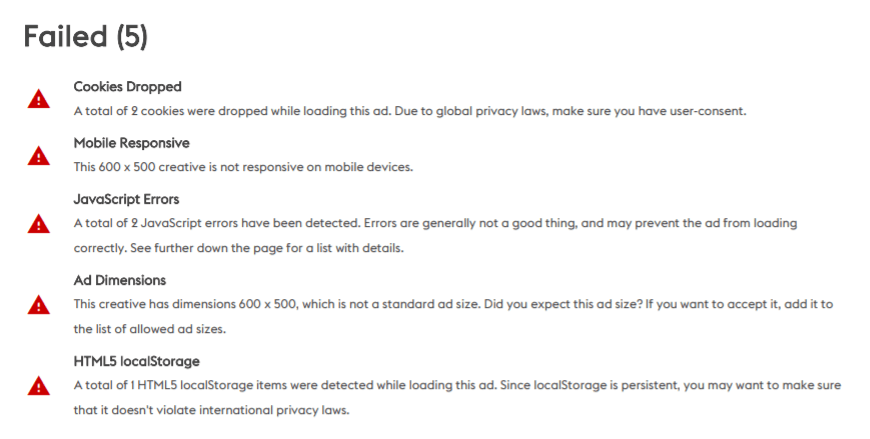 Key metrics like Network Payload, RAM usage, Iframe Count, Cookies Dropped and JavaScript Errors are reported as well. The thresholds are configurable, so you can decide when to let a test pass or fail:

Automated QA via an API
If scanning each ad tag still takes too much time, why not automate the whole QA process? Ask the development team within your company to integrate the APIs of creativeQA.io in your platform. Each time you receive a new creative, you'll see within seconds if it passed all QA tests, right from your own portal!
Implementing the APIs requires some development time. Consider however how much time it would save you and your team on a yearly basis. Creative QA is routine work, which therefore is a great target for automation.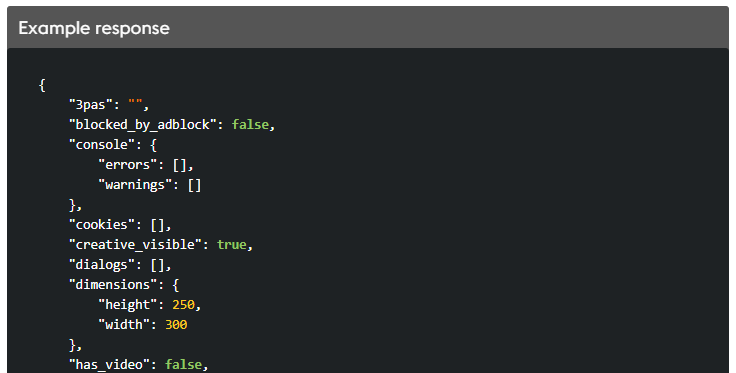 More info about the Creative QA APIs here.
External Resources